PREPARING YOUR CACAO
Cacao Recipes for Personal Use and Sacred Cacao Ceremony
CEREMONIAL CACAO: HOW TO PREPARE YOUR DAILY BREW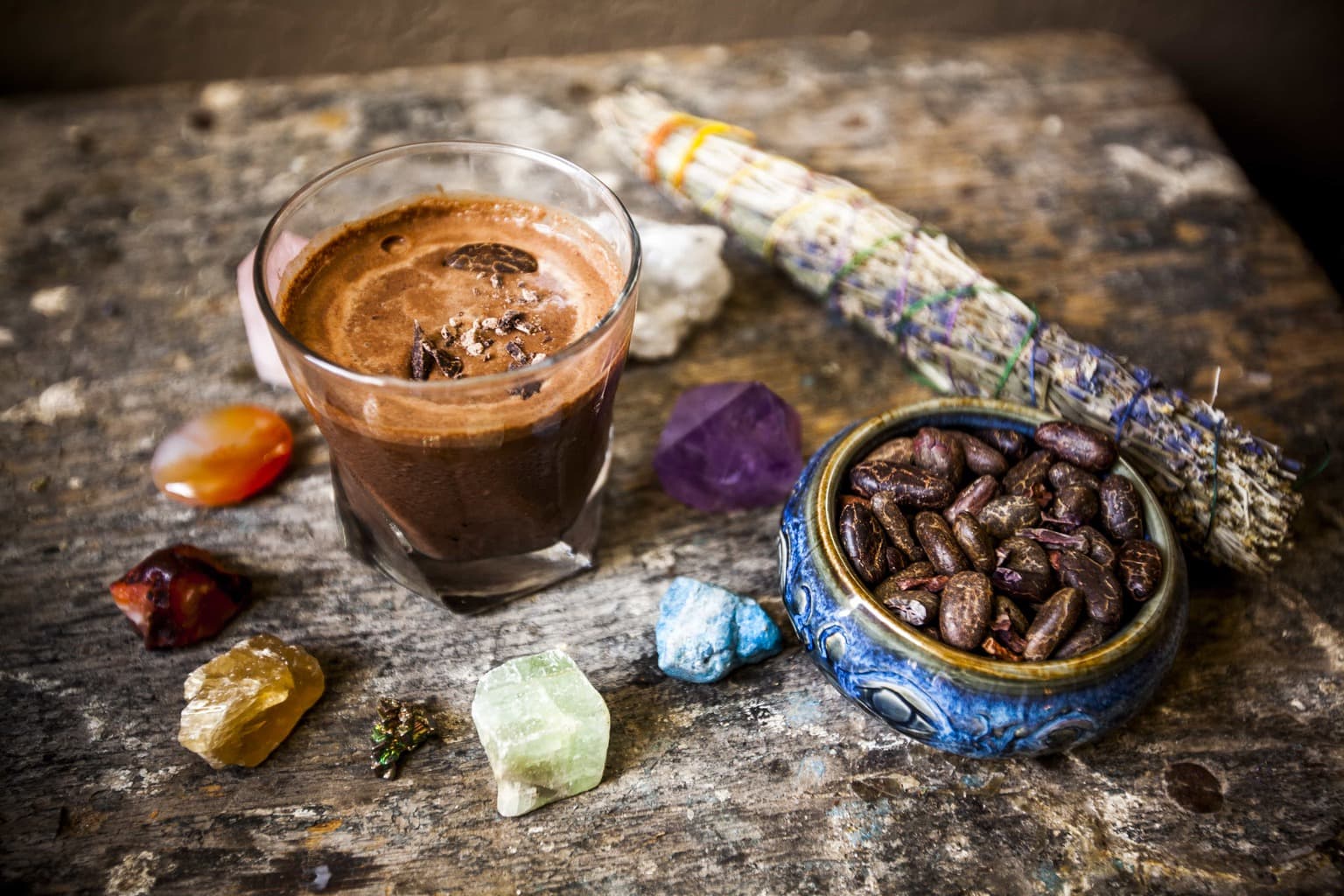 Upon Receipt of Your Cacao
Once you've secured your real, organic ceremonial-grade cacao, I recommend you immediately open the block and use a large, serrated knife to shave/sliver/slice the chocolate into small nibs, then store in a glass/metal airtight container in a cool/dry space. Cacao does not need to be refrigerated or frozen.
Preparing Your Ceremonial Brew
To prepare a shamanic dose, you will need 1 1/2 oz of cacao to 8 1/2 oz water (42.5grams to 250ml) or approximately 3 heaping tablespoons to 1 1/8th cups water. The key is to never boil your brew and to take your time creating a smooth blend. You paid for the highest quality plant medicine so don't lower its magical vibration! Bring the liquid to a near-boil, add your cacao and begin to whisk/stir immediately. You will notice it becomes slightly white & frothy on top as the air shifts out and the particles blend. Keep stirring on medium heat as you send your loving intentions and icaros into the brew until all of the air is released, and you get a beautiful shimmery liquid. This can take you 8-10 minutes, so don't rush the process! For my ceremonies, I add a dash of cayenne to enhance absorption into the bloodstream along with maple syrup & cinnamon to taste.
Preparing Your Daily Brew
For your daily brew, I recommend starting with 2 tablespoons cacao and adjusting on the back of taste & impact. You may use a combination of water and non-dairy milk if you prefer a creamier version, and you can personalize your brew with your favorite spices, sweeteners & oils. Get creative with any combination of cinnamon, cloves, cardamom, nutmeg, maple syrup, agave or honey, rose oil & mint infusions. Personally, I prepare enough for 4-5 days and store my cacao in a saucepan in the fridge to be reheated daily. Do not use the microwave, but you can use a blender if you like! The key here is simply to take a moment before you enjoy your creation, connect with nature and energy, set a meditation, inviting the goddess of cacao into your heart to guide you in mediation, dance, movement, art, music, or any celebration of life. Enjoy….
On the Go? 
Download & or print out this handy recipe card and have access to my instructions, anytime, anywhere!
LEARN FROM THE BEST! WATCH KEITH'S CACAO DEMONSTRATE HOW TO PREPARING YOUR DAILY BREW IN THE FOLLOWING VIDEO
Candace's Cacao Concoctions
Recipe Ideas for Ceremonial or Daily Brews
Candace's Ceremonial Brew:
The Shamanic Dose
INGREDIENTS:
1 1/2 oz cacao
8 1/2 oz warm water

 Try adding some organic maple syrup, cayenne, cloves, nutmeg, or cinnamon, or even a dash of pure vanilla bean essence to taste!
Candace Chai Infusion for Mantra & Meditation: Daily Dose
1 oz cacao
4.5 ounces chai tea
4 oz coconut milk
Add a touch of pure agave to taste!
Candace's Macadamia Delight: A Creamy Concoction: Daily Dose
1 oz cacao
8 1/2 oz macadamia nut milk
Add a dash of turmeric or honey for a little flair!
Additional Recipes from Keith's Cacao
KEITH'S CEREMONIAL BLEND
The base recipe Keith (The Chocolate Shaman) offers in his ceremonies:
INGREDIENTS:
1 1/2 oz cacao
8 1/2 oz warm water
Keith offers a local sweetener called panela and homemade chili powder (like cayenne)
PREPARATION:
Mix cacao with hot water and stir
Option: Add sweetener of choice and pepper to taste
MAYAN TRADITIONAL POTION
How the ancient Mayans drank their cacao:
INGREDIENTS:
1 1/2 oz cacao
4 oz warm water
1 tsp chili/red/cayenne pepper
PREPARATION:
Mix cacao with hot water and pepper. Whisk into a frothy mixture. You may also add a sweetener, but the Mayans did not grow sugarcane.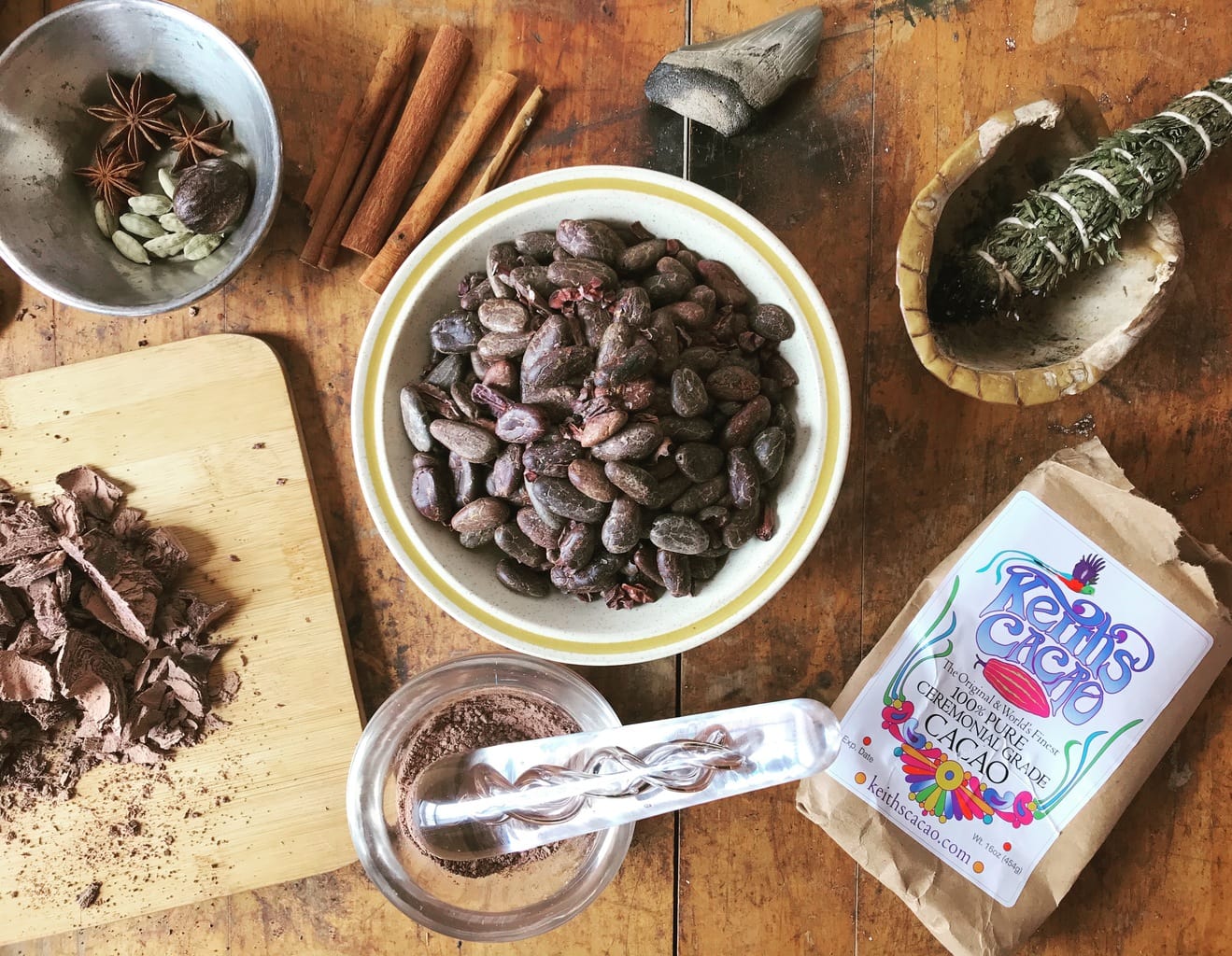 STORING YOUR CEREMONIAL CACAO
This video from Keith's Cacao explains how to break down your block of real cacao for use and for storage.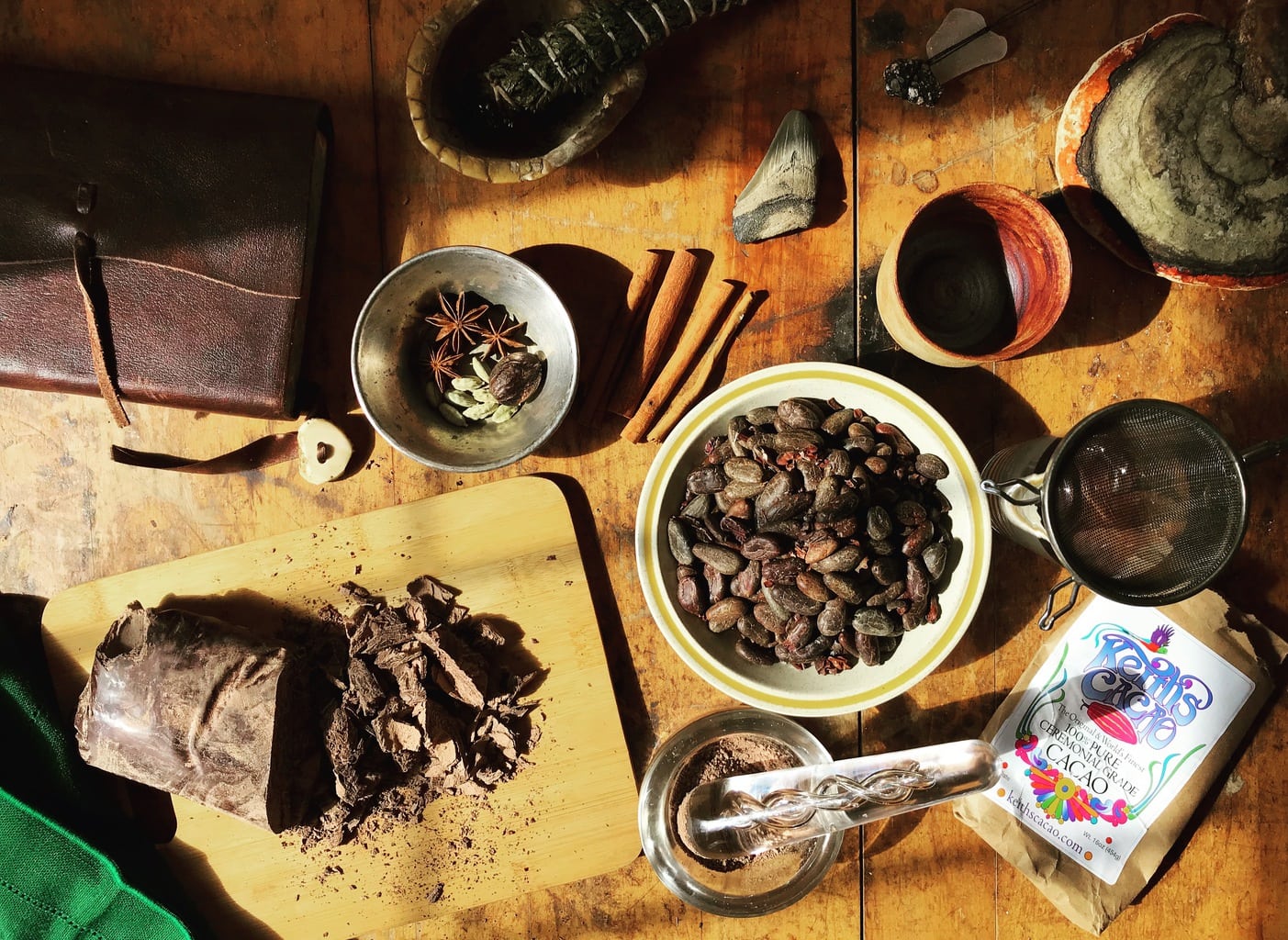 WHY CACAO IS GOOD FOR YOU?
Pure Cacao is one of nature's "Super Foods" and when taken in ceremony or as part of your daily diet, the benefits can be far-reaching and may include:
ANTIOXIDANT:
Cacao in its purest form rates #1 on the USDA antioxidant food scale at 55'653 ORAC ahead of blueberries, goji berries, and pomegranates. It also contains the highest amount of naturally occurring magnesium
BRAIN POWER:
Cacao increases blood flow to the brain by 10-15%, creating higher levels of mental agility, and improving awareness and focus
HEALTH:
Cacao contains potassium, phosphorous, copper, chromium, zinc, iron and high levels of magnesium which contribute to cardiovascular health
BLISS:
Cacao contains Anandamide or the "Bliss Molecule." Anandamide is an endocrine liquid that your body produces when you feel a workout "high". It is a natural pleasure molecule located in the cells of the nervous system
FOOD OF THE GODS:
Cacao contains the alkaloid theobromine, which translates literally into "Food of the Gods" – similar to caffeine in terms of energetic impact but impacting the cardiovascular system rather than the nervous system. Theobromine increases energy and focus without the anxious "buzz" one gets from ingesting caffeine. Cacao is a fabulous alternative to caffeine!
MOOD ENHANCER:
Cacao is natural mood enhancer releasing serotonin and dopamine which can help with easing depression and releasing negativity
APHRODISIAC:
Cacao is an aphrodisiac as it releases our "love" molecule PEA
MINERALS:
Raw cacao has more than 300 phytochemicals and nearly four times the antioxidant power of regular dark chocolate, and contains protein, calcium, carotene, thiamine, riboflavin, magnesium, and sulfur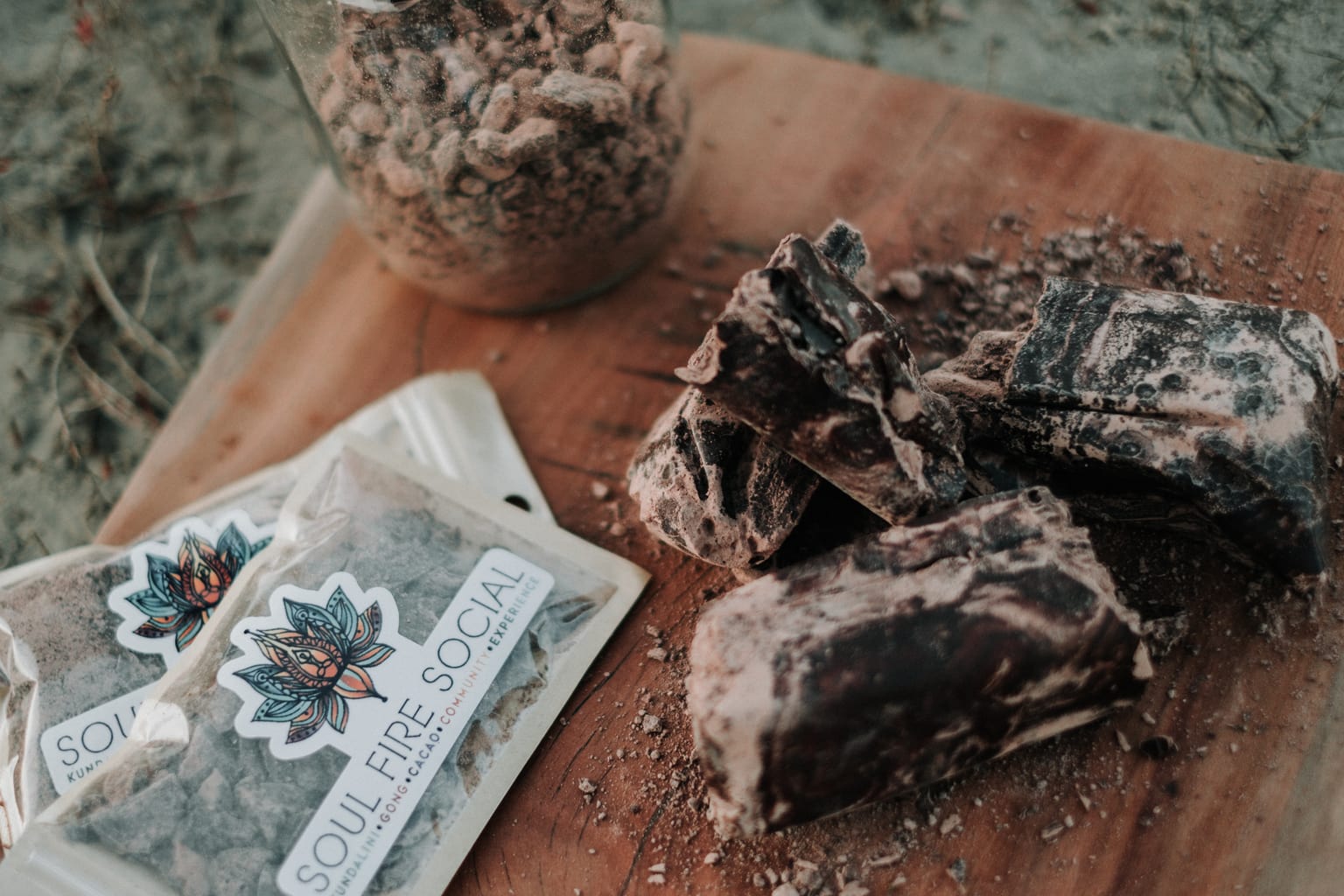 I look forward to introducing you to the Goddess of Cacao!